Immaculate Conception Music Ministry Program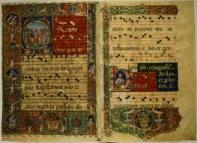 Immaculate Conception has numerous music ministry opportunities to become involved in!

CANTOR MINISTRY
The cantor ministry is one of the most challenging ministries, as it requires a diverse set of skills. The ability to read music is a great help and it is neccesary to be comfortable in front of a large gathering of people. A cantor inspires the assembly with their voice, presence and demeanor. Rehearsals are scheduled as needed. Cantors minister at all our masses year round.
Please contact Pamela Livorsi, our Cantor Coordinator, to learn if the cantor ministry is right for you!

CHILDREN'S CHOIR
Jesus said "Let the children come to me." Our children's choir is open to all children, 2nd through 8th grade, from both Immaculate Conception Grade School and our Religious Education program. We minister mostly at the 9 AM masses once a month or so on Sunday. We rehearse weekly in the chapel from 3:15 PM to 4 PM. Children from ICGS can head right over to the chapel when school is dismissed. (Children dismissed from Hawthorne can come right to the Chapel since they are dismissed at 3 PM. They will be supervised until we start.) All should please enter through the West side door; all other doors will be locked for security reasons. Register your child HERE or contact Steve Lisowski for more information on joining.

CONTEMPORARY CHOIR
Our newly formed Contemporary Choir ministers at the 5:15 PM mass on most Sundays from September through May. Our rehearsals begin at 4 PM prior to mass. This choir focuses on contemporary composers and sound. We would love to have more singers and some instrumentalists as well! If you can be a part of this exciting endeavor, contact Kristen Suwanski, our current director.

INSTRUMENTALISTS
We are so lucky at Immaculate Conception to have a strong talent pool of individuals who either currently study an instrument or have attained a level of competency in years past. Please consider donating your treasure of time and talent by enhancing our liturgy with your instrument! Due to rehearsal time restrictions, a certain level of competency will be desired. In general, musicians should have 4 years of private study as a minimum. Instrumentalists often play at larger celebrations and Holy Days.
Contact Steve Lisowski to set up a time to offer your talent!

PARISH CHOIR
Our parish choir is a diverse group of musicians who all enjoy the wonder of choral singing. We rehearse most Thursday nights in the Chapel from 7 -8:45 PM. (Please enter from the East and West side doors; the front doors are kept secured.) We often sing at the 9 AM and 11:30 AM masses from September through May and some Holy Days. This is a perfect way to become involved in music ministry! There are no "auditions"; simply join us! Contact Steve Lisowski if you would like more information.



Click here

to learn more about our music ministry staff!