Immaculate Conception Music Ministry Program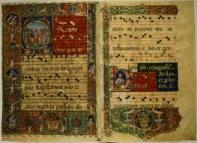 Immaculate Conception has numerous music ministry opportunities to become involved in!
CANTOR MINISTRY
The cantor ministry is one of the most challenging ministries, as it requires a diverse set of skills. The ability to read music is a great help and it is neccesary to be comfortable in front of a large gathering of people. A cantor inspires the assembly with their voice, presence and demeanor. Rehearsals are scheduled as needed. Cantors minister at all our masses year round.
Please contact
Pamela Livorsi
, our Cantor Coordinator, to learn if the cantor ministry is right for you!
CONTEMPORARY CHOIR
Our newly formed Contemporary Choir ministers at the 5:15 PM mass on most Sundays from September through May. Our rehearsals begin at 4:30 PM prior to mass. This choir focuses on contemporary composers and sound. We would love to have more singers and some instrumentalists as well! If you can be a part of this exciting endeavor, contact
Kristen Suwanski
, our current director.
Click here
to learn more about our music ministry staff!